The FunAir Floating Island is a great way for owners and guests on board their superyacht to indulge in some relaxation out on the water. The island can be tethered from the yacht whilst out on the open seas, or can bring a cool and luxurious option for lounging around in the shallow waters during a beach experience.
The Floating Island provides ample space for six guests to float safely and comfortably. The ergonomically designed Chaise Loungers can be removed for use on the sundeck or at the beach if dipping your toes in the sand is more your style. Each island comes with a central dipping pool, a stable floor to allow guests to relax together, and optional side tables for your favourite cold beverages and snacks.
Popular Floating Island Designs Include: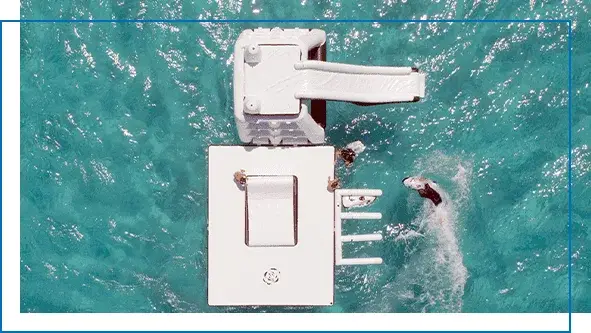 Our Floating Islands are custom built and designed by our in-house engineering team based in Austin, Texas. We love new ideas and can't wait to manufacture your next dream inflatable. The only limitation is your imagination and a nod to the laws of physics.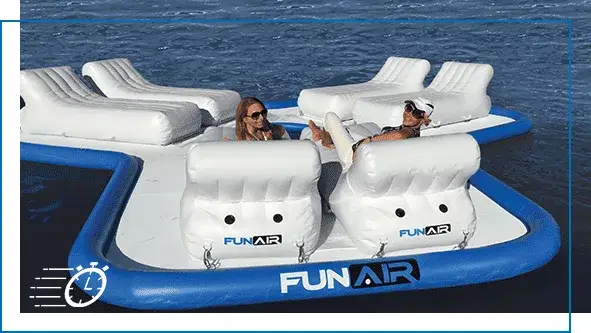 QuickShip Floating Islands
The FunAir Floating Island has been so popular that we have built an in-stock inventory to accommodate time sensitive requests. An excellent option for the yacht broker who needs to make his charter stand out to secure a last-minute booking.
Why Choose a FunAir Floating Island
Enjoy a circular netted pool in the centre of the island for toe dipping and cooling off.
Includes six lightweight, ergonomically designed loungers that can also be used on the deck or at beach.
When the fun gets going this helps to catch any unwanted rolling items from falling into the sea.
Our patented SeaStairs™ (included) make getting on and off island from ocean waters simple and easy.
FunAir superyacht inflatables are thoughtfully designed by our world class engineering team and carefully hand-made with the world's best materials and manufacturing techniques.
Drop Stitch or 0.9mm 28*26 1000 deneier PVC with FR and UV ratings, 12 oz. – 1000 denier baffling, 316 stainless steel hardware, non slip material, hot air welded seams, no rot netting.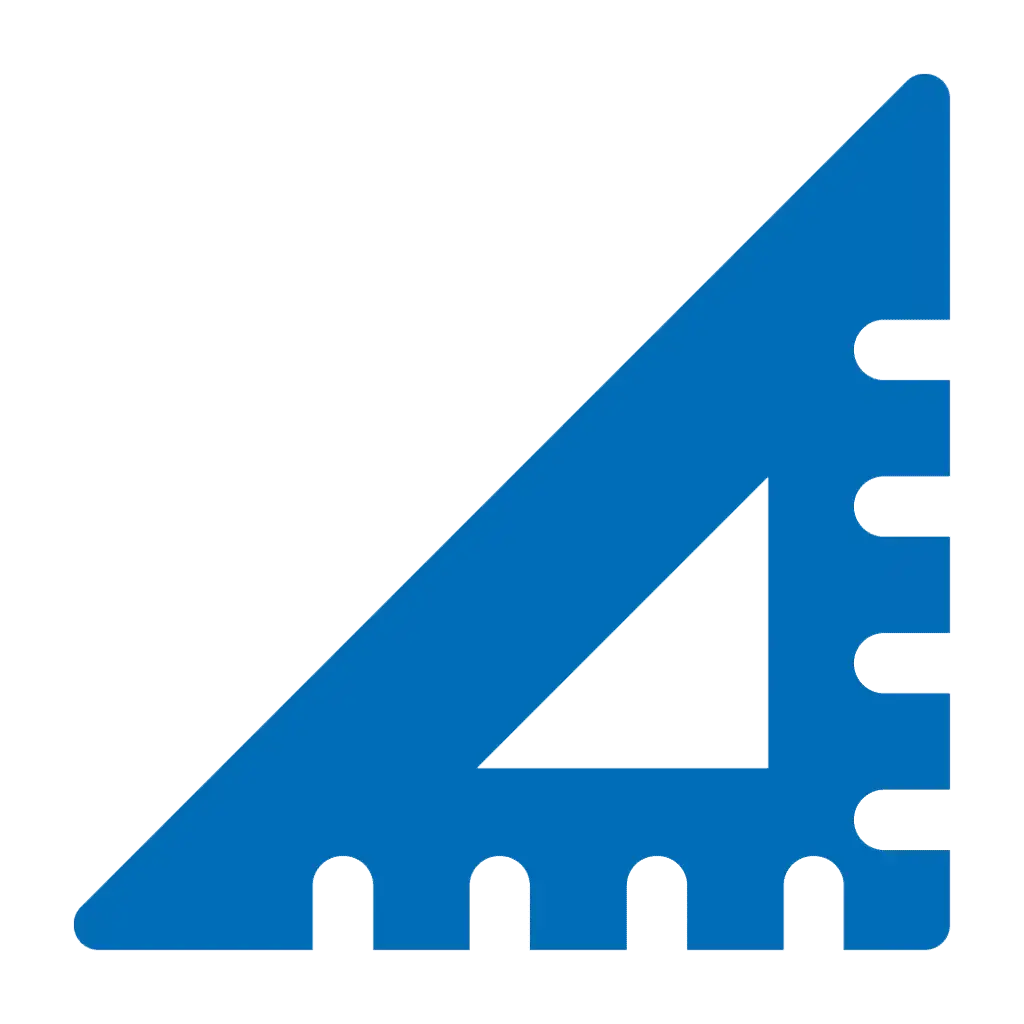 Inflated: 743cm x 662cm
Packed: 115cm x 110cm x 62cm
Loungers: 65cm x 55cm x 18cm
Weight: 150kg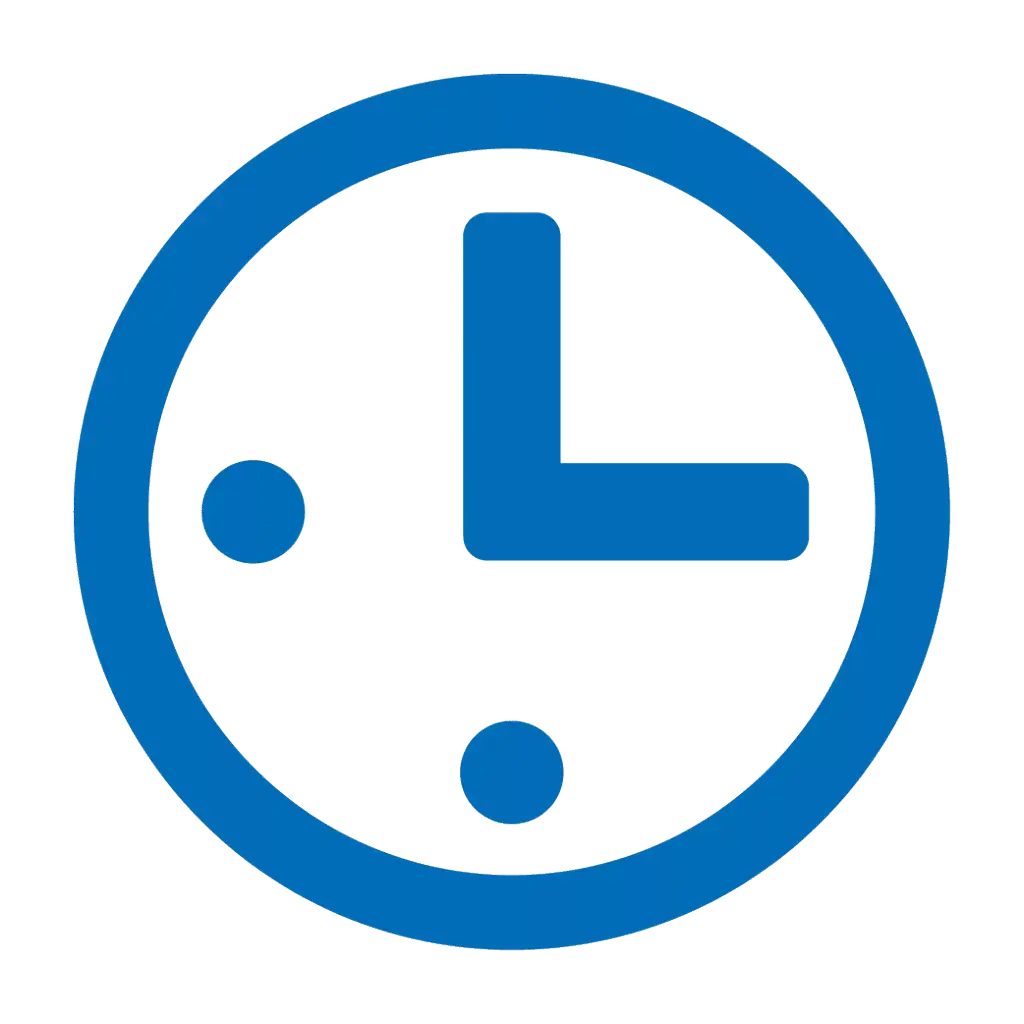 Average set-up time is 20 minutes depending on configuration.
3 year limited warranty.
Full details available on request.
FunAir – Your Premium Floating Island Supplier
If you need a custom Floating Island or in-stock QuickShip superyacht inflatables delivered in just a few days, team FunAir is ready!
Outstanding quality and service are two of our core foundations.
Here's what some of our customers and partners have to say about our inflatable Floating Islands.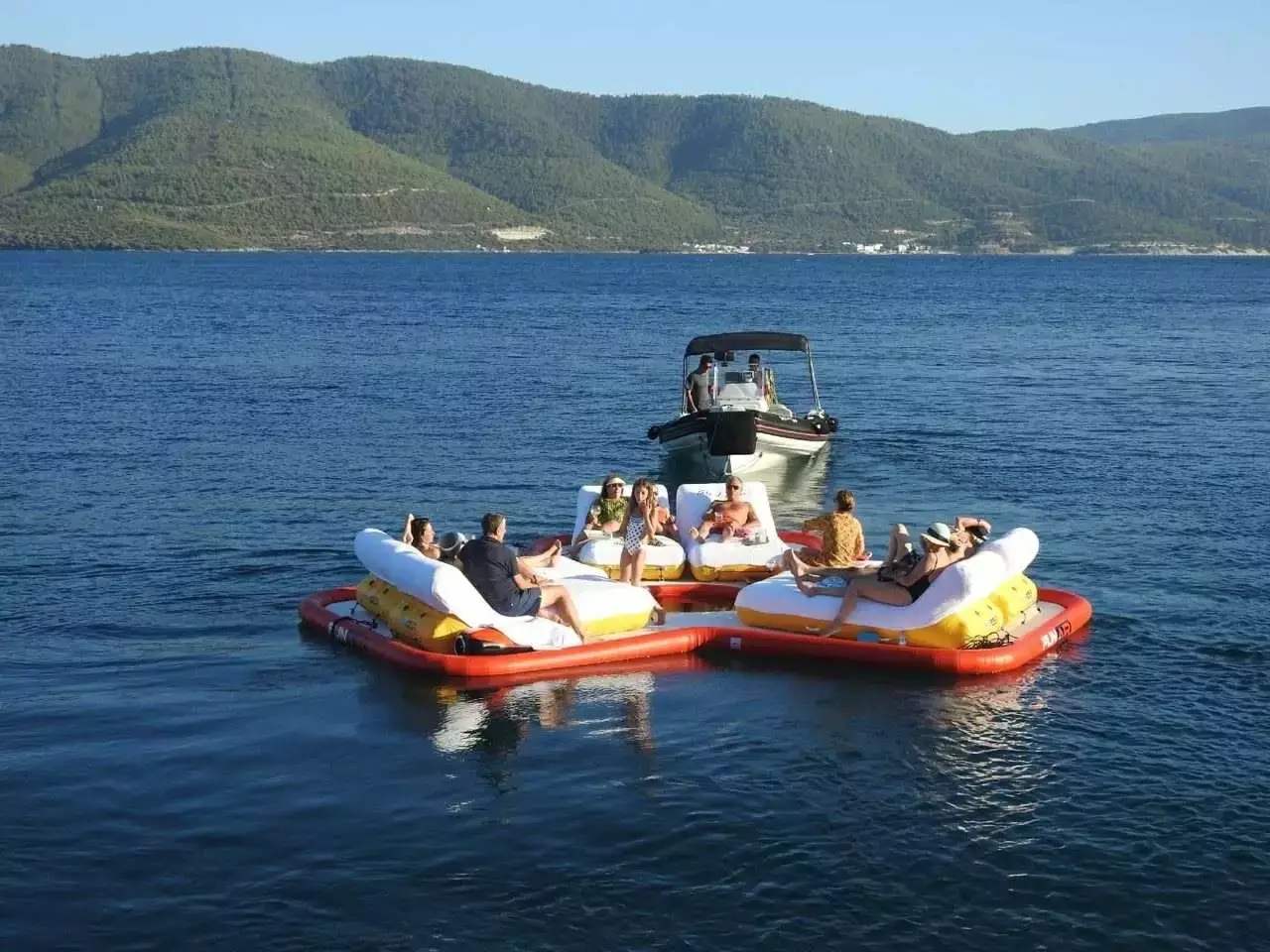 As you know our FunAir Floating Island is the best investment for fun I've made on the boat!
Watch our awesome Floating Island videos
About this video
Superyacht Illusion V Custom Floating Playground and Floating Island
We love working with our customers to create custom superyacht inflatables. We recently produced a custom Floating Playground and Floating Island for Motor Yacht Illusion V, and we received this awesome review from Chief Mate Vriesendorp. It's always great to know that our customers are delighted with their FunAir products.