We have joined forces with our friends at Superyacht Tenders and Toys to launch three fully curated Beach experience packages at Monaco Yacht Show this year following an upsurge in orders from popular charter yachts.
This joint project brings together a wide range of essential products that superyachts need to provide guests with the 7* beach lifestyle they expect when venturing ashore for the day.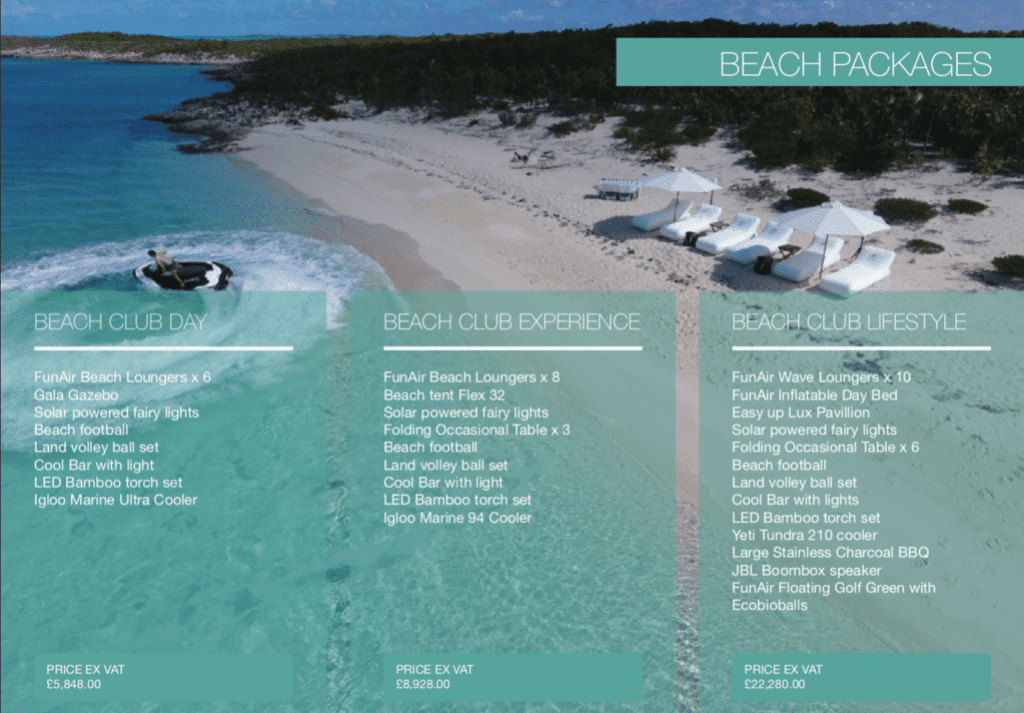 As we all know, the superyacht lifestyle has expanded past the rails of the yachts. Onshore experiences and the yachts toy box are increasingly important for owners and charter guests. With so many elements to coordinate when creating the perfect beach experience, both FunAir and Superyacht Tenders and Toys have received numerous enquiries from yachts wanting a beach day package that includes everything from tiki torches, and a robust BBQ solution to inflatable furniture and water toys, music systems and luxury shade options.
With time being in short supply for busy superyacht captains and management companies, the two companies worked together to curate three Beach day packages that provide everything the yachts needs, without the headache of browsing through hundreds of options, and with the assurance that each item has been tried and tested to make sure it lives up to the quality that their superyacht clientele expect.
To view the full catalogue please click here.
To contact Superyacht Tenders and Toys please visit www.superyachttendersandtoys.com, email info@sytt.com or call +44 (0) 2380 016363